DVD Release
"CELEBRATION OF LIFE"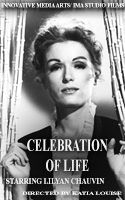 Starring Lilyan Chauvin

Enjoy the best of Lilyan Chauvin's television and screen performances with featured clips and footage from her most recognized and treasured body of work. Featuring original footage from Lilyan's guest star role on the hit television series, "Superman". It's a series of colorful and riviting scenes. Chauvin brings her audience from tears to burst out laughter and every emotion in between.
Production Company:
Innovative Media Arts/ IMA Studio Films
RUN TIME 28 MINUTES
Format: DVD, Blu Ray

Producer
Julie Ann Johnson
Katia Louise
Director
Katia Louise

---

Screening Schedule:
AHD Theatre
Los Angeles, CA
July 25th, Aug 1st, 8th

DGA, Los Angeles, CA
Aug 16th