"CELEBRATION OF LIFE"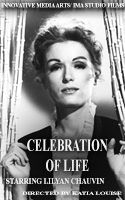 Starring Lilyan Chauvin
Directed by Katia Louise

Production Company:
Innovative Media Arts/ IMA Studio Films
RUN TIME 28 MINUTES
2008 Release
Format: DVD, Blu Ray

Co-Produced by Katia Louise and Julie Ann Johnson

A short documentary film starring Lilyan Chauvin. "Celebration of Life"

The film brings to life many of the Lilyan Chauvin's best television and screen performances with featured clips and footage from her most recognized and treasured body of work. Chauvin brings the audience from tears to burst out laughter and every emotion in between. "Celebration of Life" was screened at the AHD Theatre in July and then Premiered in August 2008 at the DGA, Los Angeles, CA. The DGA Premiere was attended by fans, prominent industry figures and the general public.



Order:
DVD

Order:
Blu Ray


This title is currently unavailable.